Thank you!!!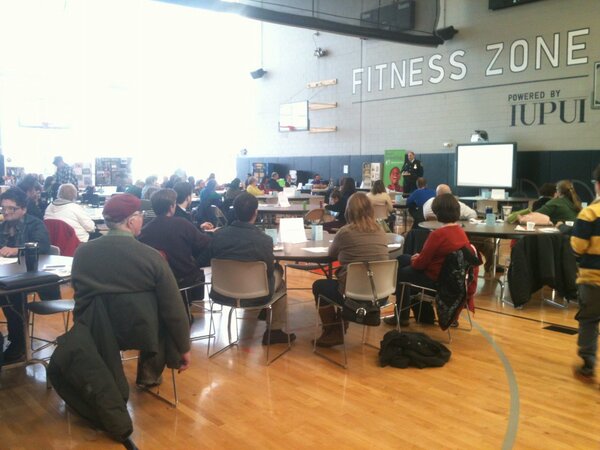 A big thank you to everyone who came out and participated in NESCO Congress this past Saturday!  Special thanks to all of our speakers and facilitators for sharing their information and assistance with our discussions.
Save the date for the next Neighborhood Summit – June 8, 2013
More details will follow in the next couple of months.
-Megan
Congrats to Paramount School of Excellence!
PSOE is awarded the Innovation Fund Grant
PSOE was announced as a winner of the 2012-13 Innovation Fund Grant by the Indiana Department of Education. This prestigious grant will enable the school to complete its 2nd discovery room. This room will include a Digital Learning Space, a Solar System Room, and a Planetarium in the existing Title I Room. The renderings below represent the preliminary design of this exciting new space!
For more pictures of the exciting new space like the one below – head over to their website http://www.paramountindy.org/news-events/news/

IPS Quarterly Parent Advisory Council Meeting
Retiring Indianapolis Public Schools Superintendent Dr. Eugene G. White will host a Parents Advisory Council meeting Thursday, February 21, beginning at 6 p.m. in the Board Room of the John Morton-Finney Center for Educational Services, 120 East Walnut Street. Free surface parking will be available on the north side of the building.
Dr. White hosts these quarterly meetings to share district information and answer questions from parents and community members. The meeting is free and open to the public.
IPS Board Invites Public to Open House Before February 26 Meeting
The Indianapolis Public Schools Board of School Commissioners will host a Community Open House on February 26 from 6 p.m. to 6:45 p.m. in the John Morton-Finney Center for Educational Services,120 East Walnut Street. Free surface parking will be available on the north side of the building.
The Open House offers the community and board members an opportunity to meet and discuss a variety of issues. Refreshments will be served and musical entertainment will be provided by the Tech Choir.
Beginning at 7 p.m., the board will meet in its Action Session, also open to the public.
2013 Neighbor Power Gathering
Please save the date for the 2013 Neighbor Power! Gathering to Inspire Great Indy Neighborhoods on Saturday, May 18, 2013.  At this event, residents and community partners from neighborhoods across Indianapolis will gather to talk about ways we can make our city an even better place to live, work, and play, celebrating what happens when we work together.  The daylong even will take place at Marian University, and will include awards program, discussions and workshops on neighborhood issues, led by neighbors.  Look forward to seeing you there!  Call INRC at 920-0330, or email us at np2013@inrc.org for more information, and be on the lookout for workshop and award nomination opportunities!
Rivoli Revue
We are only 15 days away from the Rivoli Revue! Buy tickets from a board member, online at http://rivolirevue.eventbrite.com/ or at the door of Indiana Landmarks on Saturday, March 2nd. Doors will open at 6:00pm and live performances will start at 6:30pm.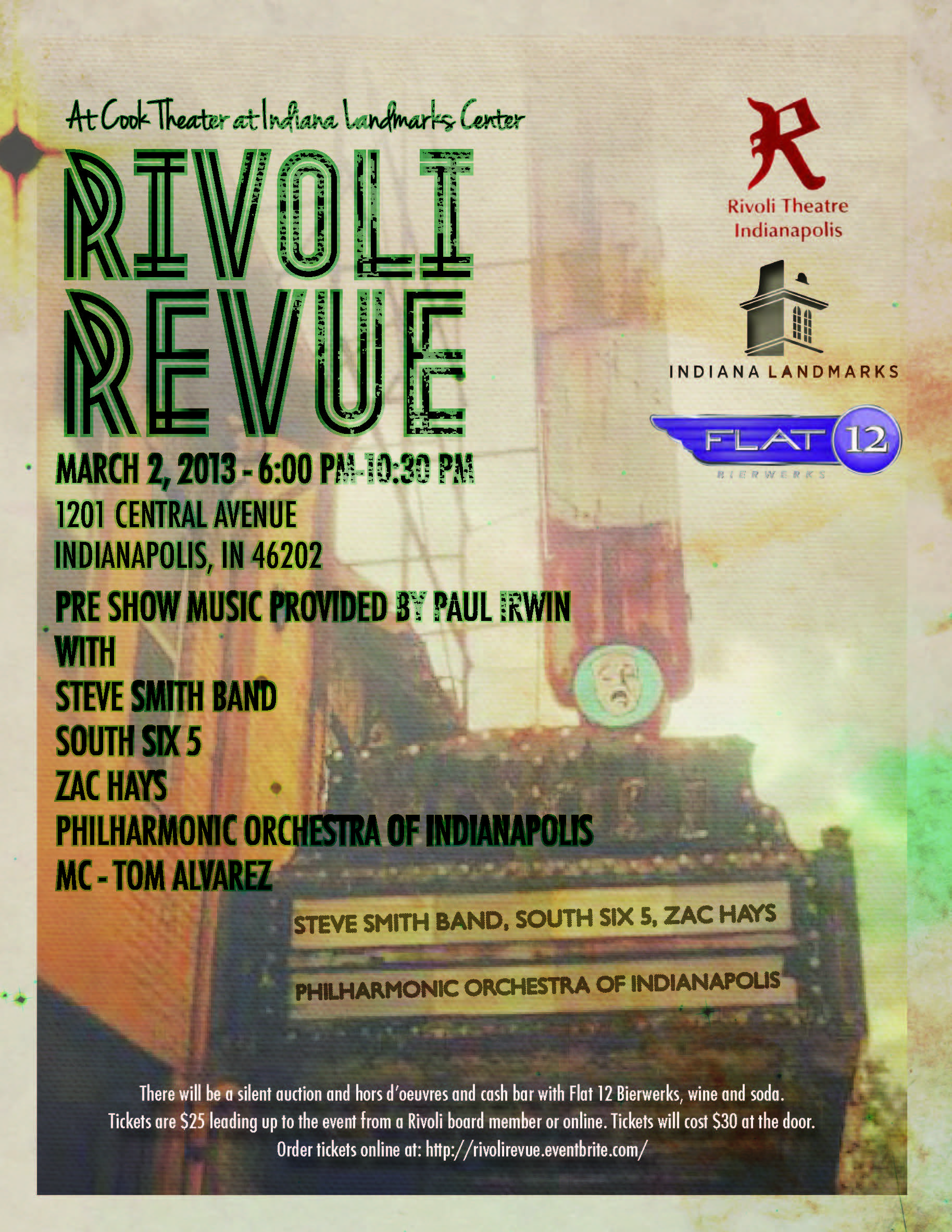 Indianapolis Crime Watch
Want to stay connected to IMPD and crime watch happenings?
Facebook:  IMPD News
East District Crime Watch Home Page:  http://www.indy.gov/CrimeWatch/IMPDDistricts/EastDistrict/Pages/DistrictHome.aspx
Crime Reports:  http://www.indy.gov/CrimeWatch/CrimeReports/Pages/CrimeReports.aspx
East District Task Force Meetings:
March 13th                     2 – 3:30pm
April 10th                       6:30 – 8pm
May 8th                           2 – 3:30pm
June 12th                        6:30 – 8pm
July 10th                         2 – 3:30pm(If East District Community Day is held on this day in July, this meeting will be cancelled)
August 14th                   6:30 – 8pm
September 11th            2 – 3:30pm
October 9th                    6:30 – 8pm
November 13th            2 – 3:30pm
December                       No Meeting
These are informational meetings held at your Indianapolis Metropolitan Police Departmetn East District Headquarters to enhance communications between your police officers, city agencies, businesses, and residences.  These meetings are open to the public.
Any questions or suggestions, please contact Officer Tammie Peters 327-6267 or email Tammie.Peters@indy.gov
Did you know you have three ways to submit anonymous crime tips to police?

Text: "INDYCS" + your tip to 274637 (Crimes)
Online: CrimeTips.org
Call (317) 262-8477 (TIPS) or 800-222-8477 (TIPS)
I-AD Blitz Day
I•AD catalyzes housing and real estate development on the Near Eastside of Indianapolis—fostering collaborative efforts to achieve comprehensive community development.
Since our founding in 2003, I•AD has worked to build its capacity and to catalyze positive development on the Near Eastside.  From 2003 to 2007, I•AD operated through a volunteer Board and to establish a vision for its future development. The launch of the Great Indy Neighborhoods Initiative (GINI) and the creation of a Quality of Life Plan developed by Near Eastside stakeholders provided direction and clear action steps for the organization. The concept of comprehensive community development is the impetus for I•AD.
I•AD's bylaws ensure that 66% of I•AD's Board of Directors live or work in I•AD's service area and that at least 51% of I•AD's Board members must be residents of the Near Eastside.
Over the past four years, I•AD has focused its work in the St. Clair Place Neighborhood, working to implement a neighborhood revitalization strategy, including the development of housing units for rent and for sale, the remediation of a brownfield, and the creation of public spaces.  This work also included the construction of St. Clair Senior Apartments, providing thirty-three units of senior housing and 4,000 of commercial space.
In 2013 I•AD will continue to focus its development work in the Housing Tax Increment Financing District (HoTIF).  However, we hope to build on our existing efforts to work with neighborhoods outside the HoTIF by documenting need and opportunities to support local, grassroots development.
To this end, we have developed a vacant/abandoned housing and infrastructure survey.  We hope to document the entire Near Eastside, map this information, and work with neighborhood associations and other groups to use this data to advocate for investment from the City of Indianapolis, from non-profit and for-profit developers, and from fellow neighborhood residents.  This survey will be available as we get closer to the date of the event.
House Before, During & After
We need your help to advocate for your neighborhood!
The forthcoming survey will guide you and your neighbors in this work, and our goal is to apply the same standard to properties throughout your neighborhood and the entire Near Eastside.
These are some things to look for:
Fire damage
Collapsing structure
Broken windows (boarded or not boarded)
High grass and weeds
Cracked Foundation
For sale or rent sign
Damaged roof and/or siding
There are also infrastructure problems or opportunities that need to be identified. This can include but is not limited to:
Cracking in pavement
Patching
Pot holes
Sidewalk displacement
Cracked sidewalks
No curb
Vegetation over-growth
How can you help?
What?          "Blitz Day"
During this day, neighborhood residents will help us assess housing and infrastructure in your neighborhoods!
When?                   Saturday, May 11th, 2013, 9:00a.m.
We will start the day with more detailed instructions and then break out into our groups. Each neighborhood will do their own assessments and then return the information collected to Indy-east Asset Development.
Why?           Map investment potential!
Indy-east Asset Development will map this information to be used to guide and encourage future investment.
Neighborhood Meetings (Upcoming)
2/19          Spades Park           Spades Park Library          6 – 7:30pm
2/20          Windsor Park       Spades Park Library           6 – 7:30pm
2/21           Grace Tuxedo       Tuxedo Park Baptist          6:30 – 8pm
2/26           NESCO Board Mtg.           Chase Near Eastside Legacy Center         6:30 – 8pm
2/27           TEAR United        Family Bible Baptist Church        6:30 – 8pm